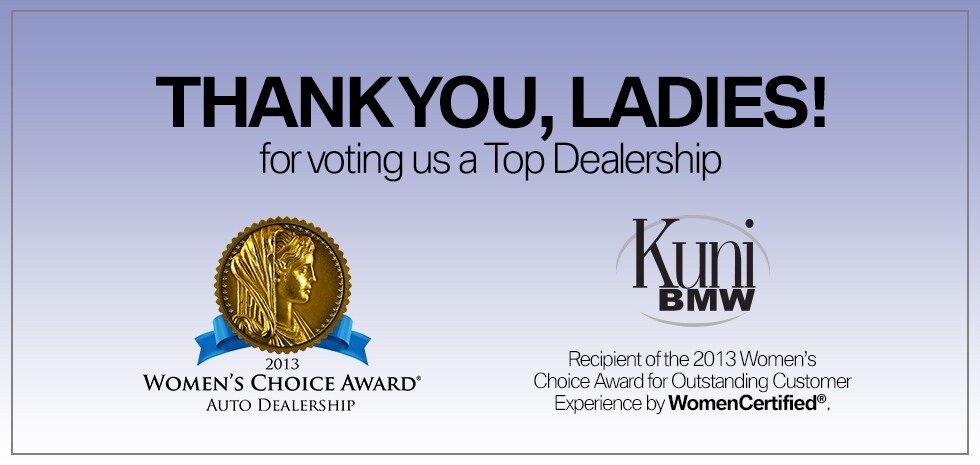 An Outstanding Customer Service Experience
At Kuni BMW, our goal is to deliver a better customer service experience every day. That's why we are so honored to have been named a recipient of the Women's Choice Award for Outstanding Customer Experience by WomenCertified. It's a validation of a conscious effort to invest in delivering an outstanding customer service experience. We know that delivering an exceptional experience and nurturing relationships pays dividends in the form of lifetime customers. That's why Kuni BMW has one of the highest customer retention and satisfaction rates in the country.
The Kuni BMW Difference
At Kuni BMW we take a tremendous amount of pride in the relationship we develop with our clients. Providing the best customer service experience possible is our highest priority.The philosophy at Kuni BMW has always been to hire the most dedicated, professional, and knowledgeable staff possible. And train that staff to deliver the most exceptional customer experience anywhere. We invite you to to make your purchase of an Ultimate Driving Machine® from the Ultimate BMW Center.
Don't Take Our Word For It

Mona shares her experience buying a pre-owned BMW 128i Convertible from Kuni BMW. Mona started her process at kunibmw.com and worked with Jessica Velazquez, one of two dedicated Internet Client Advisors at Kuni BMW. After getting most of the work done over the internet, she came in to finalize the details and pick up her vehicle from Kuni BMW Client Advisor.