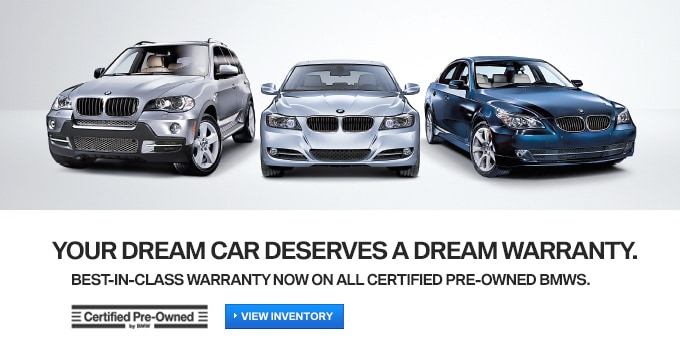 Certification




What qualifies a BMW to become a Certified Pre-Owned BMW?

 

+ Be a late model.
+ Have more than 6,000 miles but less than 60,000 miles on odometer.
+ Must pass an extensive examination by BMW factory-trained technicians.
Vehicle is inspected for safety, performance and wear. If something is not right, it is fixed. If it cannot be fixed, the car cannot become a Certified Pre-Owned BMW.


Warranty




Certified Pre-Owned BMW Warranty by BMW of North America, LLC

 

+ Protects you against defects in materials or workmanship for a wide range of vehicle components.
+ Covered repairs are performed by BMW trained technicians using only genuine BMW replacement parts.
+ No third-party adjuster to decide whether your repair is covered. Kuni BWM can make the determination right on the spot.


BMW Roadside Assistance




Care for the BMW Driver

 

+ Travel protection 24 hours a day, 365 days a year.
+ Available in all 50 states plus Canada and Puerto Rico.
+ Even if someone else is driving your BMW, you're covered.
+ In event of a breakdown, contact BMW Roadside assistance directly.
+ CPO Coverage: 6 years/unlimited miles from the original in-service date.
+ Toll-free Roadside Assistance number: 800-332-4BMW (800-332-4269).


Financing




BMW Financial Services

 

Traditional Financing
+ Terms from 48 to 60 months with no down payment required (subject to credit approval).
+ Your name goes on the title, when your loan period ends, you become the outright owner.
+ You have the same two payment options (Advance Payments and EasyPay) to make your financing easier.


The Ultimate Lease
+ Leasing a Certified Pre-Owned BMW is the same as leasing a new one.
+ All leasing options, Multiple Security Deposits, PrePay, EasyPay, and Gap Protection also apply to leasing Certified Pre-Owned BMWs.